Woven Wood Shades in Kalamazoo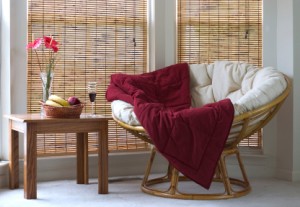 Woven wood shades are one of the most popular styles of window shades on the market. They can spruce up any boring window and add a bit of unique flair to a room without you having to completely redecorate. Blind Design Kalamazoo carries woven shades from the best manufacturers in the industry so you can enjoy these wonderful window coverings for years to come. Our Kalamazoo woven wood shade specialists will be glad to answer any questions you may have. In fact, when you call us today, you can schedule your FREE in-home consultation so you can choose from numerous styles right from the comfort of your couch. We help you pick out designs that will accent your decor the most and, unlike big box stores, we take exact measurements of your windows so every shade is a perfect fit, no matter what size or shape.
Woven window shades are also referred to as bamboo shades or matchstick shades because of their design. They are comprised of many extremely thin wooden reeds that have been woven together to form a near-solid panel. Because they are made of wood, woven shades add a natural beauty that is hard to replicate. They are perfect for your sunrooms or rooms that have a natural decor. Whatever you style is, we will be glad to help you find a window covering that fits in well. Call us today!
---
Recent Articles
Are Shades Right For Your Kalamazoo Home?

When it comes to being a homeowner, one of the tasks that you will have to take care of is finding the right window treatment that works for you. While Kalamazoo homeowners have many choices, one of the most popular choices just happens to be shades. In order to make a decision that you will...

Read More
Buying the Best Kind of Plantation Shutters

Planning to do some redecorating in your own home? Or are you looking for some great home interiors for that dream house? One part of the house that one can always improve on would be the windows. There are different styles to choose from when deciding on remodeling one's windows. There are your usual draperies,...

Read More
If you are looking for Woven Wood Shades in Kalamazoo, please call 269-207-0708 or complete our online request form.