Schoolcraft Blinds Company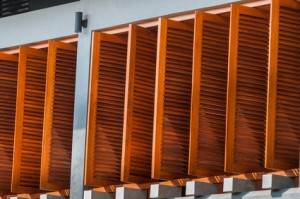 Homeowners often neglect the windows of a house, thinking that big box store purchased blinds will suffice. However, the difference having a Schoolcraft blinds company help you find the perfect window covering is astonishing. Having custom fitted shutters, shades or blinds can change the whole look and feel of a room without making severe changes. Blind Design Kalamazoo schedules FREE design consultation where we bring the showroom to you. Choose from the wide selection of window coverings we carry from the comfort of your own home so you can accurately make decisions on color schemes to match your decor.
Schoolcraft Shutters
Interior shutters add a timeless elegance to any room. They easily blend into most decors so you don't have to worry about finding new window coverings every time you remodel. Shutters are installed to be a permanent fixture for your window and are very durable and long lasting. The most common style is the plantation shutter which has the ability to be adjust via a louver. For an unhindered view on your yard, they come installed on hinges so you can fold them out of the way.
Blind Repairs in Schoolcraft
Having a reliable blind repair company will save you tons of time and money if the occasion rises. We expertly assess the damage and make sure that we order all of the correct parts if necessary and quickly fix the problem so you can continue to enjoy your window treatment. The sooner we can help you repair your blinds, the sooner we can stop further damage.
---
Recent Articles
Picking Out the Right Kind of Wood Blinds

Thinking of remodeling the windows of one's house but do not know which kind of blinds to buy? Though there are several types of window blinds available out there in the market, one classic choice that never goes out of fashion are wood blinds. The home is commonly perceived as a reflection of the owner's...

Read More
Are Shades Right For Your Kalamazoo Home?

When it comes to being a homeowner, one of the tasks that you will have to take care of is finding the right window treatment that works for you. While Kalamazoo homeowners have many choices, one of the most popular choices just happens to be shades. In order to make a decision that you will...

Read More
In search of a blinds company in Schoolcraft, MI? Please call 269-207-0708 or complete our online request form to schedule a consultation.