Paw Paw Blinds Company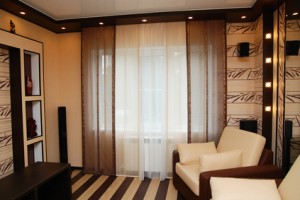 Having a reliable and knowledgeable Paw Paw blinds company on your side will make sure that you can find your new window treatment in no time. We bring the showroom to you so we can help plan a design that fully matches your decor without question. We at Blind Design Kalamazoo know how difficult it is to shop by pictures without any idea of what the end product will truly look like. We have a huge variety of different window coverings from wood blinds to plantation shutters and woven wood shades and we can help you sort through them all to find the perfect accent to any room you are trying to spruce up.
Paw Paw Shutters
Shutters are an adaptable window covering that suit almost any room or decor. We have seen people even use their shutters to cover their sliding glass doors or as a fancy room partition. Most shutters can be installed on hinges so you can fold them out of the way which helps these products be so versatile. They can provide a timeless elegance to any room and provide superior sun protection. The design has changed little since their invention, which is a true testament to the smooth design of shutters.
Blinds Cleaning in Paw Paw
Don't worry about hiding your blinds when company is expected. Give us a call and we will be glad to quickly and efficiently clean them so you don't have to worry about the hassle. We have special equipment that we use to gently but thoroughly clean each part of your blinds without damaging them so you can just sit back and enjoy the clean.
---
Recent Articles
The Different Kinds of Window Blinds

Among the parts of the house that many home owners would frequently modify are the window blinds. Some would redecorate or renovate the whole house and then change the blinds to fit the new look of the entire house. Some would simply change the look of the windows because of the changes in the climate....

Read More
Buying the Best Kind of Plantation Shutters

Planning to do some redecorating in your own home? Or are you looking for some great home interiors for that dream house? One part of the house that one can always improve on would be the windows. There are different styles to choose from when deciding on remodeling one's windows. There are your usual draperies,...

Read More
Blind Design Kalamazoo is a blinds company in Paw Paw, MI that is committed to super customer service. Please call 269-207-0708 or complete our online request form.