Otsego Blinds Company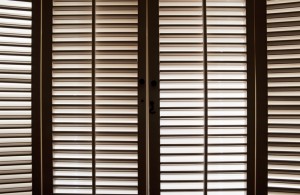 Blinds Design Kalamazoo is a full service Otsego blinds company. We carry a wide variety of not only blinds, but shutters, shades and other window coverings that will make your windows look one of a kind. We strive to provide products that pair form and function so you can feel good about your investment. Our window treatment experts will meet with you when you schedule a FREE in-home design consultation so you can look at our mobile showroom from the comfort of your own home. Never again have to 'guesstimate' the exact color of your beloved couch so you can plan your windows accordingly because we help you thoroughly plan your design as well as expertly measure your windows for an exact fit.
Otsego Shutters
Shutters are an extremely popular window covering because they are so versatile in design and use. Shutters are integrated into your window for a permanent sun filtering solution that have a timeless classic. Chances are, if you've seen interior shutters in a house, you have seen what we call plantation shutters. They can be installed on hinges for easy storage out of the way for an unhindered view. Shutters come in many sizes and colors so you have a wide range to choose from to accent your decor.
Blinds Cleaning in Otsego
There's nothing more off-putting then going to someone's house to see layers of grime and gunk glued to their blinds. It is very difficult to complete the cleaning job yourself without causing damage and we don't recommend that you try. Uninstalling them and scrubbing each slat can be outrageously time consuming and might damage them while taking them outside to hose down is extremely bad for your blinds. We have specialized equipment and extensive training to be able to swiftly clean your blinds so they look brand new.
---
Recent Articles
Picking Out the Right Kind of Wood Blinds

Thinking of remodeling the windows of one's house but do not know which kind of blinds to buy? Though there are several types of window blinds available out there in the market, one classic choice that never goes out of fashion are wood blinds. The home is commonly perceived as a reflection of the owner's...

Read More
Buying the Best Kind of Plantation Shutters

Planning to do some redecorating in your own home? Or are you looking for some great home interiors for that dream house? One part of the house that one can always improve on would be the windows. There are different styles to choose from when deciding on remodeling one's windows. There are your usual draperies,...

Read More
Blind Design Kalamazoo is a blinds company serving Otsego, MI and the surrounding areas. Call 269-207-0708 or complete our online request form to schedule a free consultation.