Kalamazoo Vertical Window Blinds Specialists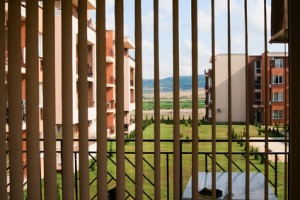 At Blind Design Kalamazoo, we have window coverings that will fit any window or back door. Our Kalamazoo window covering specialists will be glad to precisely measure your windows to make sure that we can accurately find s set of blinds that will fit. Different types of windows coverings are better for certain windows than others We have a wide selection of vertical window blinds that are perfect for those over sized windows that are wider than they are tall. Give us a call when you would like to start your search for vertical blinds and we will be glad to set up your FREE in-home design consultation and price estimate.
Vertical window blinds are most commonly used in sliding glass doors rather than windows because most traditional housing has standard sized windows. However, it is becoming a nice trend to have wide windows on the back of homes so that you can enjoy your outdoor view easily. The most common material used in making verticals is vinyl made into thin but long panels that are attached at the top to a track so they are easily slid out of the way. There are other vertical blinds that are made out of fabric panels or even wood and can add a stylish look and feel to a room. When you are ready to begin your vertical blinds search, give us a call and we will get started looking for your perfect new window coverings.
---
Recent Articles
The Kalamazoo Homeowner's Guide To Shutters

Before you go shopping for shutters in Kalamazoo, there are a few things you can learn up front that will help you choose your options. Your windows will look great with just about any type of shutter you purchase, but there are other dynamics involved when you choose the right shutters for your...

Read More
Buying the Best Kind of Plantation Shutters

Planning to do some redecorating in your own home? Or are you looking for some great home interiors for that dream house? One part of the house that one can always improve on would be the windows. There are different styles to choose from when deciding on remodeling one's windows. There are your usual draperies,...

Read More
Please call 269-207-0708 or complete our online request form to request a free consultation on your vertical window blinds project.