Kalamazoo Blinds Company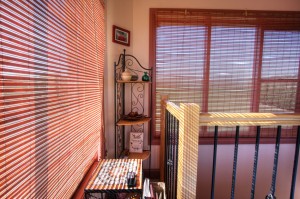 Finding the right set of blinds for your home may seem like a daunting task but with the help of a Kalamazoo blinds company, you will find the perfect window coverings with ease. Blind Design Kalamazoo strives to bring the best products to our customers so they can find window coverings to suit any style or decor. Windows are one of the most over looked area in your house but the difference a well thought out window treatment can completely change the whole look and feel of a room. Give us a call today to schedule your FREE design consultation and to learn about our competitive pricing and extensive collection of high quality window coverings.
Kalamazoo Shutters
Shutters are unique window coverings in that they are installed on your windows as a permanent window covering. Shutters can be installed on hinges so they can be folded back to provide an unobstructed view of your yard. They are some of the most popular window covering options because they can either be accented by curtains and valances of left completely on their own to provide a certain feel.
Blinds Repairs in Kalamazoo
Don't be defeated by broken blinds. Let us help you expertly repair your blinds so you can continue to enjoy them without having to spend you time and money to find replacements. We know how important it is to have reliable sun protection for your house so give us a call when you notice damage sustained to your blinds. We will assess the extent of the damage and quickly repair it so no further damage is caused.
---
Recent Articles
The Kalamazoo Homeowner's Guide To Shutters

Before you go shopping for shutters in Kalamazoo, there are a few things you can learn up front that will help you choose your options. Your windows will look great with just about any type of shutter you purchase, but there are other dynamics involved when you choose the right shutters for your...

Read More
The Different Kinds of Window Blinds

Among the parts of the house that many home owners would frequently modify are the window blinds. Some would redecorate or renovate the whole house and then change the blinds to fit the new look of the entire house. Some would simply change the look of the windows because of the changes in the climate....

Read More
Looking for a blinds company or shutters in Kalamazoo, MI? Call us at 269-207-0708 or complete our online request form.