Kalamazoo Blinds Cleaning Company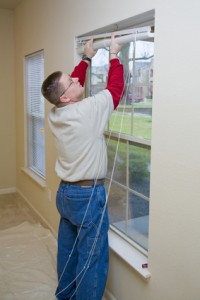 Having dirty blinds can ruin the whole look of a room. No matter how much you dust, it is inevitable that there will be some build up that will need something stronger than you feather duster. Blind Design Kalamazoo offers professional cleaning solutions that will keep your blinds looking brand. Our Kalamazoo blinds cleaning experts only use state of the art equipment for an undeniable clean. We carefully remove your blinds from your windows so they are not damaged and then we proceed to clean them quickly and efficiently so you don't have to go without them for longer than necessary.
It is recommended that you let a professional clean your window coverings because they can be fairly easy to damage with a garden hose or pressure washer. Trying to clean fabric window covering yourself can result in irreparable damage, forcing you to spend needless money on new ones. Your window blind's lifetime will be greatly extended if you leave the cleaning to us. We have years of experience cleaning blinds so you don't have to.
---
Recent Articles
Buying the Best Kind of Plantation Shutters

Planning to do some redecorating in your own home? Or are you looking for some great home interiors for that dream house? One part of the house that one can always improve on would be the windows. There are different styles to choose from when deciding on remodeling one's windows. There are your usual draperies,...

Read More
The Kalamazoo Homeowner's Guide To Shutters

Before you go shopping for shutters in Kalamazoo, there are a few things you can learn up front that will help you choose your options. Your windows will look great with just about any type of shutter you purchase, but there are other dynamics involved when you choose the right shutters for your...

Read More
If you are interested in blinds cleaning services for your Kalamazoo home, please call 269-207-0708 or complete our online request form.