Kalamazoo Blind Repair Company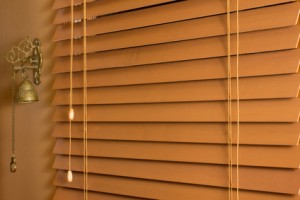 When your blinds break, it may seem like the end. Before you throw in the towel and trash them, consider calling Blind Design Kalamazoo for repairs. You have searched long and hard for window blinds that match your decor and provide superior sun protection, why not protect that investment? Our Kalamazoo blind repair specialists have years of experience replacing broken or missing pieces on your blinds so you don't have to worry about beginning the search for replacements that match your decor as perfectly as your current ones.
Most often, the things that break the most are either the slats on your blinds that control the about out light let in or the pull string from vigorous use. Consider these only minor setbacks because we can repair your blinds in no time so you can get back to enjoying their aesthetic value and sun protection. We carefully assess the problem so we can accurately order any parts needed and carry out repairs efficiently. Call us any time you need professional blind repair and we will be glad to assist in diagnosing the issue and quickly fix it.
---
Recent Articles
The Different Kinds of Window Blinds

Among the parts of the house that many home owners would frequently modify are the window blinds. Some would redecorate or renovate the whole house and then change the blinds to fit the new look of the entire house. Some would simply change the look of the windows because of the changes in the climate....

Read More
Are Shades Right For Your Kalamazoo Home?

When it comes to being a homeowner, one of the tasks that you will have to take care of is finding the right window treatment that works for you. While Kalamazoo homeowners have many choices, one of the most popular choices just happens to be shades. In order to make a decision that you will...

Read More
In need of a blind repair professional in Kalamazoo, MI?  Please call 269-207-0708 or complete our online request form.