Faux Wood Blinds in Kalamazoo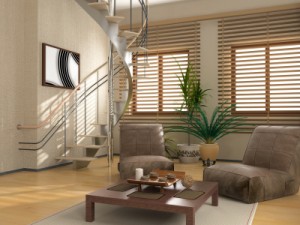 While real wood blinds look elegant and natural, they are not always practical. There is a fair amount of upkeep that goes into having wood blinds installed. There is a a good solution, though. Faux wood blinds are a great alternative to real wood because, as a general rule, they are much less maintenance heavy but look just as good. Blind Design Kalamazoo wants to help you find the perfect set of faux wood blinds for your home, no matter what you decor style is like. We have have an extensive collection of faux woof blinds in every color imaginable or even get your blind to mimic real wood. Our Kalamazoo blinds specialists will be glad to help you match your color scheme and decor to a new pair of blinds. Just give us a call!
Faux blinds are made from a number of different materials, but the most common are wood composite, vinyl or aluminum. Composite wood is made of several different strands of wood that have been compressed to form a very durable wood-like texture. They won't splinter or swell like real wood and need to polishing to ward off scratches. Vinyl blinds are probably the most common type you see in homes. They are made from a durable plastic and come in a variety of colors to choose from. Aluminum is the strongest material for blinds and are very easy to care for. A simple swipe of a duster is usually enough.
---
Recent Articles
Buying the Best Kind of Plantation Shutters

Planning to do some redecorating in your own home? Or are you looking for some great home interiors for that dream house? One part of the house that one can always improve on would be the windows. There are different styles to choose from when deciding on remodeling one's windows. There are your usual draperies,...

Read More
The Different Kinds of Window Blinds

Among the parts of the house that many home owners would frequently modify are the window blinds. Some would redecorate or renovate the whole house and then change the blinds to fit the new look of the entire house. Some would simply change the look of the windows because of the changes in the climate....

Read More
For more information about faux wood blinds and installation, please call 269-207-0708 or complete our online request form.