Custom Shutter Installation in Kalamazoo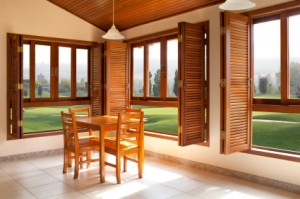 Shutters are a wonderfully versatile window treatment options. They come in many sizes, style and variations so you are sure to find a set at Blind Design Kalamazoo that fits your decor. The main thing that sets shutters apart from all of the other window coverings is that they are integrated into your windows for a permanent light control solution. Our team of Kalamazoo shutter experts are ready to help you choose what kind of shutter will go best in your home.
The most popular type of shutter is the Plantation shutter. They get their name because they were so popular for use in old plantation homes. They were used for superior interior light control as well as a sort of indoor temperature control. During the cold winter month, the slats could be closed to keep the interior warm. In the summer, the slats could be opened to allow cool breezes to pass through without letting the sun's rays in. The design has changed little since then, which is a great testament to their usefulness and style. Today you can get them on your windows, backdoor or, in some cases, to partition rooms. For optimal control, we can install them on hinges to you can move them out of the way for an unhindered view of your backyard.
---
Recent Articles
The Different Kinds of Window Blinds

Among the parts of the house that many home owners would frequently modify are the window blinds. Some would redecorate or renovate the whole house and then change the blinds to fit the new look of the entire house. Some would simply change the look of the windows because of the changes in the climate....

Read More
Picking Out the Right Kind of Wood Blinds

Thinking of remodeling the windows of one's house but do not know which kind of blinds to buy? Though there are several types of window blinds available out there in the market, one classic choice that never goes out of fashion are wood blinds. The home is commonly perceived as a reflection of the owner's...

Read More
Give us a call to schedule a free consultation for your Kalamazoo shutter project. Call 269-207-0708 or complete our online request form.